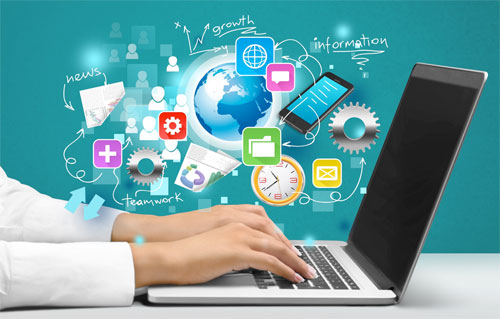 TECHNOLOGY
–

Quality client support and collection technology.
In an age where it's not how hard you work but how smart you work, it is a high priority of management at Midstate CreditCollect to source the most cost effective technology available, and provide our clients with the highest level of service available.
With the use of electronic data exchange, the internet and email we are able to handle larger workloads in a shorter period of time. Our technology provides our clients with:
Electronic document lodgement
We have on-line facilities for Magistrates Court which allows 24 hours turn around for the issuing of most legal documents.
New account batch downloading
For your convenience accounts can be sent electronically and are batch loaded on to our system. This reduces the turn around time for action.
Electronic banking
We utilise electornic banking to deposit client refunds. This gives clients immediate access to their funds at the end of every month.
Online access to accounts
Collexus' online functionality allows clients to track account progess, add file notes, view payments and changes, and print reports.
Electronic statements
If preferred, statements can be produced and issued electronically via email.
Electronic reporting
Statements, reports, payments and mail can all be sent electronically. This reduces paperwaste and increases efficiency.
Collexus Collections Software
MCC's collection operating system is Collexus. We have utilised this software platform for 7 years being one of their pioneering customers which has allowed us to be heavily involved with its development & evolution.
Collexus is now a leader in collections software industry and is widely regarded as the easiest systems to use and on-board new staff, and provides the highest levels of automation available while enforcing compliance to accepted operating procedures.
The Collexus software has been built using a modern enterprise grade database management system and rapid development tools, making it flexible & extremely nimble for both internal staff as well as our clients. This flexibility means MCC can have developments/enhancements scope & implemented within weeks of it being requested (sometimes less depending on the complexity of the enhancement).
At the heart of Collexus is a sophisticated workflow engine that allows rules and paths of action to be tailored made for each client, all of this being controlled at client level (set up by MCC staff). Things such as letters & legal documents can be changed instantly, again being tailored to our clients specifications.
The Collexus software & in-house support delivers to MCC a product that is both user friendly & state of the art which assists greatly in delivering the service level MCC prides itself on.
Client Online Access
MCC uses one of the most up-to-date software packages available for debt collection services. City of Casey staff will be able to access the on-line portal any time day or night with 24/7 access via a secure password protected portal known as SmartClient.
The SmartClient portal gives as many staff as you require access to view all active and closed accounts. It enables you to view them in a live environment where you can see ever action taken on an account and place notes or give instructions that go directly to the operator managing your portfolio.
Instructions or requests from MCC staff are place in a queue so that when you log into the SmartClient you can see exactly which accounts require actioning. Once actioned by the client the account is removed from your work queue and automatically placed in the work queue of the MCC account operator.
All actions and notes are updated in a live environment to the customers collection file.
The SmartClient also allows you to view any account and it's status, run collection statistical reports and other general reports.
Contact us at Midstate CreditCollect for more information on the technology we employ.